Serveis dassessoria, gestió i consultoria comptable per a particulars i empreses. Assessoria comptable financera, comptabilitat de gestió, anàlisi de balanços, comptabilitat d'autònoms, etc. Recollim la seva documentació, l'analitzem i la comptabilitzem per al registre oficial.
La nostra funció principal és administrar la vida econòmica de la vostra empresa. Els registres de xifres passades als llibres ens serveixen per prendre decisions que beneficiïn en un futur immediat. Amb l'anàlisi i la interpretació informem administradors, terceres persones i ens estatals, entitats bancàries i altres organismes.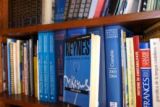 La Comptabilitat Financera és la ciència que apliquem en el dia a dia a la porta de llibres, de la qual cosa ens alimentem per confeccionar informes i llibres de registre. En conclusió, és la manera d'extreure'n la informació necessària per prendre les decisions pertinents.
Articles del Blog relatius a aquest tema:
No Results Found
The page you requested could not be found. Try refining your search, or use the navigation above to locate the post.